Do seniors love e-bikes? If you ask Randy Schultz, Richard Kipling, and Gary Ebersole the answer is clear. Absolutely!
In the last decade, the use of e-bikes for outdoor fun and as a non-polluting alternative to cars has exploded. And in big cities, e-bikes have become the de facto vehicle for home delivery services. Order a pizza and Chinese take-out in New York City and it's a good bet the delivery person will be riding an e-bike. Over a million e-bikes are sold each year in the U.S. and the numbers are growing. The global trend is even stronger, and experts suggest that using e-bikes rather than cars for many trips could have a measurable impact on climate change.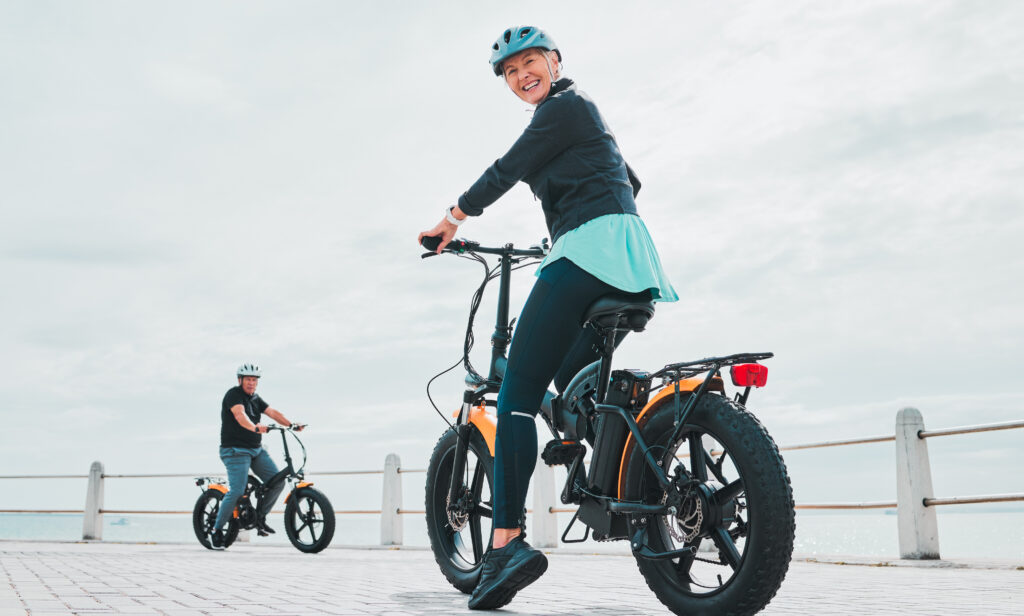 Why Do Seniors Love E-Bikes?
It's a simple answer—riding e-bikes is just plain fun! There is nothing quite like zipping along almost effortlessly at 15 or 20 miles per hour while still getting exercise. It's also a wonderful social activity since group rides give seniors a chance to spend time with family and friends.
Buying an E-Bike
In this episode, we look at how seniors should approach purchasing an e-bike. There are a multitude of frame types to suit every riding need whether running errands around town on a utility bike or hitting the trails and dirt roads with an electric mountain bike.
Where to buy an e-bike is a common question for riders of all ages. For seniors who have less experience with biking, purchasing from a local bike shop might be the best approach. Most towns have good shops that can assess your needs and get you on the right kind of e-bike. The shops are also around after your purchase to provide support and maintenance. For seniors who love e-bikes, have decent mechanical skills, and feel comfortable assembling and maintaining an e-bike, there are many reliable manufacturers who sell their e-bikes online.
Riding an E-Bike
If you have ridden a non-electric bike, then you can ride an e-bike. Riding safely requires the same equipment used for regular bike riding—a good helmet, gloves, and riding glasses (sunglasses are fine). New and experienced riders need to think in terms of riding an electric scooter than just a bicycle. E-bikes typically go much faster than non-electric bikes and are significantly heavier.
Want to learn more about buying and riding an e-bike in your golden years? Just click on the "Play Episode" triangle above.
Connect with Us
Would you like to know when the co-hosts of Camp Codger get together to talk about a new topic? Subscribe to our weekly Camp Codger newsletter to receive an email notification each time we publish a new episode. You can also subscribe and listen on your favorite podcast app. And, if you enjoyed this episode about how seniors love e-bikes, please click the Share button below and Like Camp Codger on our Facebook Page. Finally, have some feedback for the old codgers? Leave a comment below or send an email to campcodger@gmail.com.